Small, mouth sized chocolates – suitable for guests or just for you. These Raw Chocolate Petit Fours are made from the purest cocoa.
Serves approx. 10
YOU WILL NEED
80g cocoa butter
1 teaspoon vanilla powder
1 tablespoon agave syrup or coconut sirup
4 tablespoons raw cocoa powder
How to make the petit fours
Gently melt the cocoa butter in a bowl in a bain-marie. When the cocoa butter is completely melted lift the bowl from the bain-marie. Mix the vanilla powder in with the melted cocoa butter. Add agave syrup and raw cocoa powder to the chocolate, and mix thoroughly. Pour the chocolate into chocolate – or confectionary moulds and leave to cool until firm. Lift the chocolates from the mould and enjoy them with friends.
BUY MY BOOK TO GET MORE RECIPES
These cute little delicious chocolate petit fours are from my book Raw Snack - you can buy it here, if you want more healthy yet tasty raw snacks ;)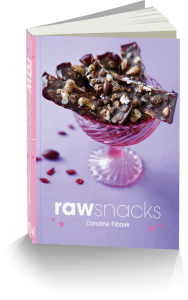 Photo: CamillaHey.dk